Microsoft SharePoint
Microsoft SharePoint Overview

Welcome to the new way to work together – Share, Organize, Discover, Build and Manage with the new version of Microsoft SharePoint Licensing. Microsoft SharePoint introduces new ways to share your work and work with others, organize your projects and teams and discover people and information.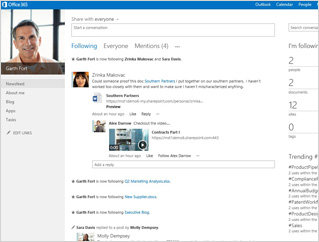 Share:
Put social to work

Share ideas, discover answers and keep track of what your colleagues are working on with new social features throughout SharePoint.
Share your content
Publish content to SharePoint from any Office application and share with people inside and outside your organization in a few simple clicks.
Take SharePoint on the go
Share documents, update your activity feed and keep in touch with your colleagues from your mobile phone or tablet.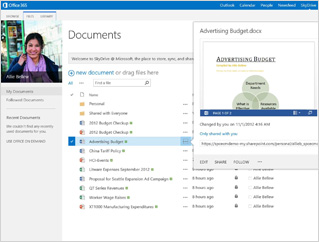 Organize:
Keep projects on track
Organize all your projects and tasks to get visibility into upcoming deliverables across SharePoint, Outlook and Microsoft Project.
Keep your team connected
Set up a new team site in minutes track meeting notes and bring together all your team's email and documents in one place.
Store and sync your docs
Sync your content in SharePoint to your desktop with SkyDrive Pro, so docs are just a mouse click away, even if you're offline.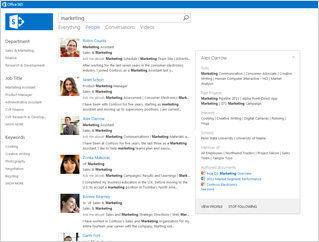 Discover:
Find experts you never knew existed

Connect with people across your organization and easily discover past projects they've worked on.
Discover insights and answers
Turn raw data into gorgeous interactive reports with Microsoft Excel and publish to SharePoint to share insights with the people you work with.
Find what you're looking for
Customize your search to deliver more relevant results.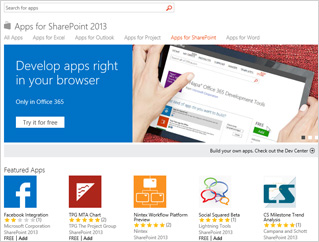 Build:
Build apps in the cloud
Build apps on common web technologies like JavaScript, HTML and oAuth with the new Cloud App Model for SharePoint.
Publish apps to the SharePoint store
Make your apps available to everyone to try and buy through the public Store or only available to your employees through the corporate catalog.
Build eye-catching sites
Use familiar design tools and flexible controls to create dynamic intranet and internet sites to share your organization's vision.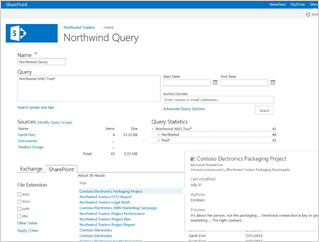 Manage:
Manage costs

Reduce your infrastructure costs and extend the boundaries of sharing by running SharePoint in the cloud with Office 365.
Manage risk
New archiving, eDiscovery and case management capabilities extend across SharePoint, Exchange and Teams.
Manage your time

Spend more time delivering innovation and less time managing infrastructure with advances in SharePoint capabilities.
Of course, we continue to support customers that are using or adopting all previous versions of SharePoint, so please call us whatever version of SharePoint you are using.
For more information, please contact us
by phone +44 (0) 1789 292 150
or email us info@techassoc.com